Road trip! Day 7: Zwergejagd (Dwarf Hunt)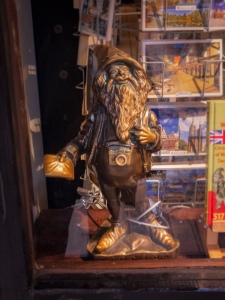 T
oday is our last day in Wrocław. Over breakfast, we have discussed what we might want to do in the few hours we have left. Since we really enjoyed the market square, we think that a climb to the top of the viewing tower would be a wonderful way to see it in its entirety. After the climb, I suggest we go on a "dwarf hunt" as I had read about them the previous night and it sounded like an interesting way to spend a few hours. After eating and packing, we head out retracing our steps from last night. Our first stop is the viewing tower…which is closed for repairs. We are disappointed but there isn't much we can do to change it so we move on to our other adventure for the day – hunting for dwarves.
Bankomatki (the Dispensers)
Is it a robbery in the light of day? Not at all, these are just the Dispensers, that is the tech support of a dwarf ATM in Kuźnicza Street. Perhaps the machine ran out of money or "ate" somebody's card. Dispensers aren't in danger of overworking themselves as there are only two ATMs for dwarves as they still prefer the old ways of handling money.
Dwarf Janin is easily recognizable by his fashionable narrow trousers, short jacket and beard. His best friend is of course the Narcissus Dwarf.
Beba i Thom (Buildwarves)
A nice couple of builder dwarves, who were united not only by their love for architecture, but also for Wrocław. Thanks to them all the buildings of the city are beautiful and safe.
Sluchacz RMF (RMF Listener)
Firemen fear no fire. In full readiness, with a fire hose and a ladder, they await the call. They keep vigil near the Garrison Church – commemorating this way the three dramatic fires of the temple. Let's hope these smallest firemen won't have to intervene to often.
Lady Wolność (Lady Liberty)
This dwarf symbolizes the friendship between the United States and France. It resembles the Statue of Liberty, a symbol of New York City. He holds a torch in one hand and a book with the word freedom in three languages: Polish, English, and French.
He knows all the ways into Dwarf City. You can easily recognize him by the huge key. Much has been written recently about the City-Under-Ground, but we still don't know much about this place, which some say is extraordinary. This is the Keymaker's domain. The key also decides who will be its successor, but that's a thing of the distant future.
This unusual dwarf is a guardian of values that are so easily forgotten nowadays. His work continues throughout the year and his mission is to improve the quality of life of incurably ill children and help them heal.
Lion spod znaku lwa (Lion born under the sign of Leo)
Veteran Dwarf was ceremonially unveiled during the celebration of the Veteran Day. It is supposed to symbolize the bravery of soldiers. The dwarf will remind the inhabitants of Wrocław of their respect for those fighting on the fronts. This is definitely one of the most deserving dwarves!
Profesor (Professor Dwarf)
He's beyond doubt the best-educated of all Wrocław dwarves. You'll meet him strolling along the University main building wearing a toga. With his nose buried in a book as usual, he only glances up from time to time to throw a reproachful look on the students who are late for their lectures.
Pierożnik (Dumpling Dwarf)
Dumplinger did not settle on his spot by coincidence. He likes to eat well and dining at a restaurant with traditional cuisine is the best option for him. They say he was a good cook himself, at least in the past. Constant nibbling during the cooking made it impossible to serve the food to guests, because there was nothing left. As many other dwarves, he enjoyed stealing dumplings from Humans' plates. He was so good and deft at this that before the poor victim realized, the plate was already empty. Waitresses helplessly shrugged at the complaints of clients and when asked the question 'Who ate my dumplings?' they answered 'Dwarves most likely". After a while, Dumplinger became to impudent and got caught more often than not. When smacked on the hand with a fork, he hastily retreated under the table. News about the dumpling thief soon spread across town.
Wentyl – Krasnal Motocyklista (Chopper-dwarf)
He has one hand on the handlebar, with the second he greets passing drivers and pedestrians. Who's that? Chopper-dwarf, first motorist among the Little Ones in Wrocław, a dedicated friend of all those who love driving motorcycles. Although he constantly roams the streets of Wrocław on his bike, you are most likely to catch him somewhere near the St. Mary Magdalene's Cathedral on Szewska Street. It's the usual meeting spot of the bikers, where they lively discuss all the topics related to their beloved vehicles. Chopper-dwarf, the smallest of them all, always has some advice, kind word or a helping hand for his friends.
She is a charming Dwarf with a fashionable cap, raised glasses and a camera in her hands. He is a dwarf with true dwarf dimensions. Glasses on his nose, a tasteful cup and a bouquet of beautiful flowers in his hands. And this dreamlike and in love sight…together they form an unmistakable duet. A little bit and her Adorers.
There couldn't have been a better time for the appearance of Wrocław's greatest admirer. Since June he infects all othe dwarves with love to Wrocław and welcomes tourists with a smile worth of the most eager fan of Lower Silesia's capital. Rumour has it that it is him who encouraged the Little Ones to reveal themselves to the citizens of Wrocław and all visitors. Now it is time for him to be revealed. The appearance of WrocLover in town is a sign of increasing dwarfisation, which is a positive phenomenon. The integration of Little Citizens with the Big Humans is on the rise and admirers of Wrocław such as WrocLover promote the city all over the world as the most friendly place for dwarves.
Wiesiek Partnerski (Partner Village Dwarf)
A dwarf named Partner Village. It commemorates 25 years of cooperation between Wrocław and the German city of Wiesbaden.
Ciastuś i Amorinek (Cake and Cupid)
Cake and Amorinek appeared suddenly and unexpectedly, deceived by the delicious smell of the café. First, they carefully and shyly looked into the windows, enjoying their senses with the beautiful decoration of the place and delicious sweets, under which our tables bend. They immediately delighted us with their personal charm and curiosity about the world, so we invited them to live with us permanently. The dwarves, out of gratitude for the care, make sure that we never run out of the most delicious cakes, cookies, and desserts of all kinds.
Orzezwiacz (Refresher Dwarf)
He earned the title of "Dwarf of the Week" long ago, as he is the one who repairs all the plasterboard that falls of, damaged walls and other construction imperfections in Dwarf City. After the authorities of Dwarf City ordered some of the entrances to be shut, he was the one to put that into effect. Many people ironically remarks that the dwarf is a little 'tired' but the Little Ones say there is no trouble with him and he does all duties diligently. As we managed to discover, he secretly loves sculpting. In the past he dreamed of an artistic career, however the life decided differently and now he deals with something simpler, although respected by other dwarves.
This is the dwarf that was told to keep watch over the entrance to Dwarf City. Unfortunately, he was idle and lazy since forever, so he didn't treat the task seriously enough and as he leaned on the stone structure, he fell deeply asleep. He awakes only from time to time when a scent of delicious food starts to float around. Currently nobody is able to say whose idea it was for Sleepyhead to take this post, but the author must have noticed the mistake because he or she doesn't admit it anymore. It is also unclear why the Wrocław Dwarf Committee doesn't relief Sleepyhead of his duty. Some say that the gates to Dwarf City are so small that there is no risk whatsoever of anyone intruding. Better to keep this dwarf on a meaningless post than trust him with something more important. Another theory says that the loud snoring of Sleepyhead poses as a signal and helps to find the actual entrance.
Franek Moczymordka (Franky Boozehound)
This dwarf is sometimes called the Halberdier. He's the most vigilant among all dwarves. Hiding from the eyes of tourists he resides in a niche above the entrance to Wrocław's City Watch precinct in the Market Square. As a member of the law enforcement he is responsible for maintaining order among dwarves. Guard belongs to the group of dwarves that don't like to stand out, so he is not easy to spot. An indefatigable keeper of order, he does his duty day and night, vigilantly watching for signs of misdemeanor and unlawful conduct. And since everything is more visible from above, he doesn't leave his post even for a second in fear of missing something.
The Orange Alternative is a Polish anti-communist underground movement, started in Wrocław in the 1980s. Its main purpose was to offer citizens an alternative way of opposition against the authoritarian regime by means of a peaceful protest that used absurd and nonsensical elements. By doing this, members of the Orange Alternative could not be arrested by the police for opposition to the regime without the authorities becoming a laughing stock. The Orange Alternative has been viewed as part of the broader Solidarity movement. Initially it painted ridiculous graffiti of dwarves covering up anti-government slogans on city walls. Between 1985 through 1990, the group organized a series of more than sixty demonstrations in several Polish cities. It was the most picturesque element of Polish opposition to Stalinist authoritarianism. It suspended activity in 1989, but reactivated in 2001 and has been active on a small scale ever since.
Although we have not even come close to finding all the dwarves, it is time for us to leave. Vowing to return – perhaps during a Christmas Market – we head back to the car to begin the journey home.